Weekly schedule.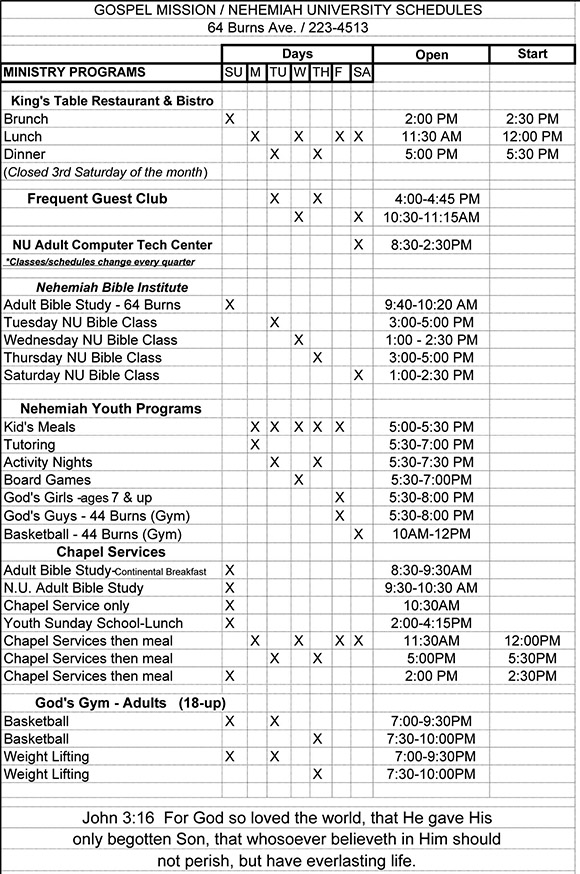 Regular Events
There is always something special going on!
Happy Birthday Gospel Mission
Each year on the second Saturday of July, we have our own block party to celebrate another year of service to the Lord.
Senior's Picnic
This annual event on the last Friday in August is a favorite for our seniors. A very special buffet is prepared along with old-fashioned music and singing.
Summer Events
Many summer events are scheduled for all age groups. Trips to the farm, museums, zoos, water sports days, etc., are always on the agenda.
Camp Jabez Open House
Every first Saturday in October from 3PM-6PM, we hold our annual Open House. All are invited to come and enjoy a day in our beautiful country setting to relax or be adventurous and take a ride down the zip line! There is plenty of food, fun and entertainment. Please, mark your calendars to join us!
Harvest Party
Every October our youth look forward to this "dress-up" event. A great evening of fun and fellowship with the reminder that Christ is the reason for all abundance and blessing.
Thanksgiving Buffet
A very special menu is prepared for Thanksgiving in honor of the abundance of God's Grace toward us. This event is always the Friday after Thanksgiving.
Christmas Buffet
This is the largest of our buffets for the year. The Christmas menu is always a hit. This celebration is the Saturday before Christmas. The preparation starts over a week in advance for this special feast.
Christmas
As you might expect, a generous supply of gifts are distributed to the many who respond. To properly serve our congregation, this event is spread over ten days.
Winter Events
The gym, pizza and hot chocolate are popular on those cold winter nights. We thank the Lord for such fine facilities to offer such an array of events.